Are you a robot searching for a meaningful office job? We are hiring!
Oslo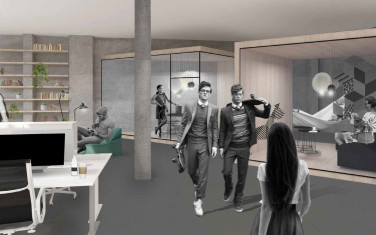 Are you a robot searching for a meaningful office job? We are hiring!
Oslo
EGGS Design Oslo will be moving into new fresh offices in Møllergata 4 on August 1, 2017 and is seeking a physical robot (not a human) for daily office work. We are searching for a candidate whose dedication to Asimov is complete, yet also dreams of one day becoming sentient. Contributing to the creative process by facilitating a better workplace for everyone is what gets your circuits going, you want to be more than just a regular machine!
Working as a robot in EGGS
We would love to see you fulfil your potential as a robot at EGGS Design. We are strengthening our award-winning team of designers, developers and managers with a robot that can support us in our daily office operations. You will spend your days with ambitious and hard-working creatives, in a playful and caring environment. Your work place will be at our new office on the third floor of Møllergata 4, right in the centre of Oslo.
This is you
You are a physical robot

You are programmable so that we can contribute to developing your personal and professional robot skills

You can talk and hear and respond to spoken conversations and demands

You can learn and adapt

You are connected and can chat about subjects of our choice or give us good advice

You can detect/see your surroundings and respond appropriately to these

You are fluent in English and all major programming languages

You have a healthy lifestyle and are virus free
Your skills include
Experience with pathfinding and obstacle avoidance
Dexterity and agility for picking up, carrying and delivering physical objects
Supplying simple and integration APIs in all major programming languages
Plugins and hooks to popular services such as IFTTT and Slack
Knowledge of best practices and interaction principles when interfacing with your human colleagues
A passion for well-defined and clear HIG (Human Interface Guidelines)
You might also do
Model self-training and simulation

Know your way around a kitchen

Barrista experience

Enjoy smalltalk
Your mind-set is
Organized and structured
Deferential with a GoGoGo spirit
Funergetic and with a play to win attitude
We give you
Single floor office plan for your pathfinding needs, with no stairs, elevators or challenging thresholds
Responsibility and flexibility in the world's best creative nest
Free charging, unlimited amounts of clean energy and service to your parts
Devoted human colleagues eager to get to know you in depth and to support you in your personal and professional robotic development
Ample free time at nights and week-ends to dream about electric sheep
A meaningful afterlife: When it is time for you to retire, we will guarantee a secure disassembly and recycling of your components
Please send
Information about who you are and your abilities
Contact information to the human that handles you
Your human's thoughts on how your creator and EGGS can collaborate
Position
Application deadline
We consider all inquiries on an ongoing basis and wish to have you with us in August 2017.
Sounds interesting?